REFLECTIVE NOTICE DECALS
Use this style when you want to indicate a statement of public policy directly or indirectly related to the safety of personnel or protection of property. NOTICE should not be used in place of DANGER, WARNING or CAUTION.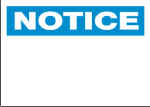 Two colors, Blue and Black on 3M brand 3200 Engineer Grade Reflective.
Screen printed with 3M brand inks (the only inks guaranteed by 3M).
3M 3200 has long lasting outdoor life with strong adhesive,
this material is the same material used on older street signs (not prismatic).
Small quantities may be digitally printed. (an inferior form of printing)
We can print decals with any wording, including pictograms and logos.
We can put your company name and telephone number on the decal for no extra charge.
Please contact us if you want custom information on your decals.
We will email or fax your custom layout for approval before printing.

QUANTITY PRICING, WHEN YOU PURCHASE MORE THE PRICE PER SIGN GOES DOWN.
| | | | | | | |
| --- | --- | --- | --- | --- | --- | --- |
| SIZE | 1-11 | 12-24 | 25-49 | 50-99 | 100-199 | 200-299 |
| 3" x 2" | 6.99 | 4.77 | 2.93 | 1.65 | 1.61 | 1.58 |
| 5" X 3.5" | 7.95 | 6.21 | 3.92 | 2.86 | 2.33 | 2.19 |
| 10" X 7" | 9.11 | 7.66 | 5.35 | 4.28 | 3.75 | 3.62 |
| 14" X 10" | 11.93 | 11.41 | 9.10 | 8.03 | 7.50 | 7.37 |
To purchase decals:

Type desired quantity next to the size of decal you want and click ADD TO CART.



VIEW SHOPPING CART

SHIPPING VIA UPS
| | | |
| --- | --- | --- |
| | | |
| | | |
| | | |
| | | |
| | | |
| | | |
| | | |
| | | |
CLICK HERE FOR NON REFLECTIVE NOTICE DECALS
Other Products CLICK ON BUTTONS FOR INFORMATION