Computer Lettering
Our Computer Lettering is made using any of 1,000 typestyles or your custom logo or artwork. We use 2 mil premium vinyl or 3mil medium vinyl or 3M Scotchlite 3200 series Engineer Grade Scotchlite reflective vinyl. We recommend the 2 mil premium product for all permanent applications unless reflective lettering is required. The 3mil medium vinyl is recommended for billboards, interior signage or banners.
Computer lettering is made of self-stick vinyl. Each letter is individually cut out. Entire sheets of pre-spaced lettering can be applied to glass or any smooth surface in one piece.
Lettering does not stick well to rough surfaces and water based paint. A smooth high quality Oil-based enamel is the best product to stick lettering to.

For instructions on how to install lettering, click on photo.

And your Company Logo can be included.

There are literally hundreds of typestyles in endless condensed and extended forms. Bold and light, italicized, arced, outline, shadow, etc. are available. The easiest way to specify what you want is to fax us a sample. Otherwise, we can make a layout for you with our suggested typestyles. We can fax you a scale drawing showing exactly how your lettering will look.
The typestyles below are some of the most common used. The Helvetica typestyles are normally used for official and regulatory signage in offices, hospitals and government buildings. Helvetica Medium is most common for DOT and other licensing numbers.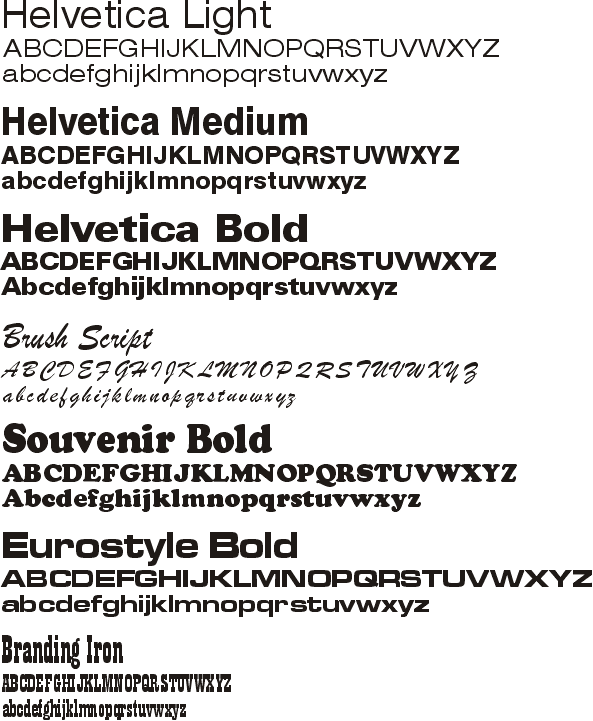 Many colors are available. We can provide a pantone number.
REFLEX BLUE VIVID BLUE TOMATO RED CARDINAL RED PINK


SCHOOL BUS YELLOW BRIGHT YELLOW FOREST GREEN KELLY GREEN BROWN BURGUNDY TEAL GRAY ORANGE

PREMIUM, ECONOMY AND 3M REFLECTIVE LETTERING
ANY COLOR PRE-SPACED READY TO APPLY IN ONE PIECE
2 MIL PREMIUM is used for permanent signage, windows, vehicles, boats, airplanes, etc.
3 MIL ECONOMY is used for billboards, banners, posters and signs used less than 5 years. It is also used as an economical stencil for painting techniques.
3M REFLECTIVE SCOTCHLITE is used where night reflection is desired.

PRICE PER CHARACTER
| | | | |
| --- | --- | --- | --- |
| SIZE | 2 MIL PREMIUM | 3 MIL ECONOMY | 3M REFLECTIVE |
| 1/4" | .39 | N/A | N/A |
| 1/2" | .28 | N/A | N/A |
| 1" | .28 | .26 | .84 |
| 1 1/2" | .36 | .33 | 1.08 |
| 2" | .42 | .37 | 1.26 |
| 2 1/2" | .48 | .43 | 1.44 |
| 3" | .54 | .46 | 1.62 |
| 3 1/2" | .60 | .51 | 1.80 |
| 4" | .68 | .58 | 2.04 |
| 4 1/2" | .76 | .65 | 2.28 |
| 5 1/2" | .94 | .80 | 2.82 |
| 5" | .87 | .74 | 2.61 |
| 5 1/2" | .94 | .80 | 2.82 |
| 6" | 1.02 | .87 | 3.06 |
| 6 1/2" | 1.06 | .90 | 3.18 |
| 7" | 1.14 | .99 | 3.42 |
| | | | |
| --- | --- | --- | --- |
| 7 1/2" | 1.34 | 1.14 | 4.02 |
| 8" | 1.47 | 1.25 | 4.41 |
| 9" | 1.64 | 1.40 | 4.92 |
| 10" | 2.05 | 1.74 | 6.15 |
| 11" | 2.34 | 1.99 | 7.02 |
| 12" | 2.69 | 2.28 | 8.07 |
| 14" | 5.04 | 3.99 | 15.12 |
| 16" | 6.03 | 4.72 | 18.09 |
| 18" | 6.99 | 5.54 | 20.97 |
| 20" | 7.71 | 6.11 | 23.13 |
| 24" | 11.22 | 8.89 | 33.66 |
| 28" | 15.57 | 12.33 | 46.71 |
| 32" | 22.65 | 17.93 | 67.95 |
| 36" | 27.36 | 21.66 | 82.08 |
| 40" | 32.34 | 25.61 | 97.02 |
| 44" | 36.08 | 28.57 | 108.24 |
| 48" | 42.41 | 33.58 | 127.23 |
Other Products CLICK ON BUTTONS FOR INFORMATION