CAUTION DECALS
This style of decal should be used only where an immediate hazard exists that could result in death or serious injury.
It should not be considered for property damage unless personal injury risk is present.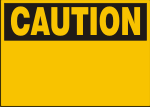 Black on Yellow 3mil 3M brand decal material.
Our screen printed decals are printed using solvent based ink, for long lasting outdoor life.
Smaller quantities may be made with digital printing ( an inferior printing method).
We can print decals with any wording, including pictograms and logos.
We can put your company name and telephone number on the decal for no extra charge.
Please contact us if you want custom information on your decals.
We will email or fax your custom layout for approval before printing.

QUANTITY PRICING, WHEN YOU PURCHASE MORE THE PRICE PER SIGN GOES DOWN.
| | | | | | | |
| --- | --- | --- | --- | --- | --- | --- |
| SIZE | 1-11 | 12-24 | 25-49 | 50-99 | 100-199 | 200-299 |
| 3" X 2" | 8.11 | 4.99 | 2.42 | 1.37 | .81 | .75 |
| 5" X 3.5" | 9.12 | 5.60 | 2.71 | 1.56 | 1.09 | 1.04 |
| 10" X 7" | 9.70 | 6.28 | 3.51 | 2.23 | 1.60 | 1.52 |
| 14" X 10" | 11.02 | 7.89 | 5.10 | 3.83 | 3.19 | 3.03 |
To purchase decals:

Type desired quantity next to the size of decal you want and click ADD TO CART.



VIEW SHOPPING CART

SHIPPING VIA UPS
| | | |
| --- | --- | --- |
| | | |
| | | |
| | | |
| | | |
| | | |
| | | |
| | | |
| | | |
| | | |
| | | |
| | | |
CLICK HERE FOR REFLECTIVE CAUTION DECALS
Other Products CLICK ON BUTTONS FOR INFORMATION