SOLAS 3M™ Scotchlite™MATERIAL DECALS
Our Solas 3M™ Scotchlite™ Material Decals are printed using screen process printing sometimes called "silk screen." We use the highest quality exterior screen ink. We have removed the SOLAS imprint in order to provide a clean white surface for your image. Larger orders can be die cut in shapes. Smaller orders are cut with knife.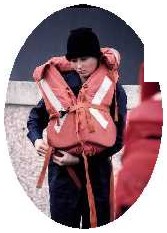 3M™ Scotchlite™ Reflective Material - SOLAS MmThese products are specifically designed for reflectorizing SOLAS life support equipment such as life vests, jackets, inflatables and rafts. 3M™ Scotchlite™ Reflective Material - SOLAS Grade 3150-A conforms to the International Maritime Organization regulations and meet U.S. Coast Guard specifications for reflectivity.
SOLAS grade products are composed of an encapsulated retroreflective lens incorporated onto two types of backing: sewable and pressure sensitive afhesive. They perform well wet or dry and enhance the visibility of life support equipment such as life vests, jackets and rafts.<
| | |
| --- | --- |
| | Your Product name and Company Information or Agency Logo can be permanently imprinted on a SOLAS Decal. |
For more information on SOLAS material, go to https://www.3m.com/market/safety/scotch/psp/workwear/marine/index.jhtml
Other Products CLICK ON BUTTONS FOR INFORMATION