MAGIC BLACK INFRARED
SOLAS PINSTRIPE
3M Company discontinued their 3M Solas material in 2020.
In order to continue to offer products with as close as possible adhesive, appearance, and sewing characteristics as 3M Solas material, we have a Solas material specifically manufactured for Anytime Sign. This material is made specifically for Anytime Sign, and we have registered the trade mark as Solas3™. Solas3™ is a USCG certified material and bears the SOLAS mark.
We use the same IR Magic Black coating on Solas3™ that we used previously on the 3M Solas material, so you should have no trouble switching over to this new material. However, please request a sample and test it extensively. Put it through all of your manufacturing processes. Definitely let us know if you have any issues with it.

For nearly 40 years, Anytime Sign has used 3M reflective products exclusively.
We continue to use 3M brand products for all of our other reflective materials.
Unfortunately there is no company in the United States that manufactures a Solas grade material similar to 3M's
so we had to go to a source outside the USA to get our Solas3™ material made.
FOR DETAILED INFORMATION ABOUT
MAGIC BLACK PRODUCTS CLICK HERE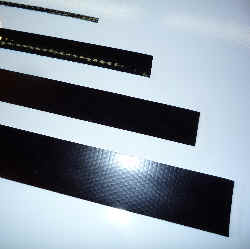 This pinstripe is Covert, it will not reflect in the visible spectrum.

This pinstripe reflects brightly when viewed with night vision equipment.
MAGIC BLACK INFRARED SOLAS3™ COMES IN PRE-CUT 20 INCH LENGTH STRIPS
ALSO AVAILABLE SOON IN 10 YARD ROLLS AND BY THE YARD
IR REFLECTIVE MAGIC BLACK
SOLAS3™ 10 YARD PINSTRIPE
For ECONOMY MAGIC BLACK INFRARED PINSTRIPE
IN 10 YARD ROLLS, CLICK HERE.
IR REFLECTIVE MAGIC BLACK
SOLAS3™ - 20" PRE-CUT STRIPS

20 INCH PRE-CUT STRIPS ARE AVAILABLE IN 2 1/2", 2" , 1 1/2", 1" , 3/4", 1/2" AND 1/4" WIDE.
20 INCH PRE-CUT STRIPS ARE MADE WITH SCREEN PRINTING AND HAVE A HIGHER QUALITY STANDARD THAN THE PINSTRIPE IN 10 YARD ROLLS.

Magic Black Infrared Ink. Magic Black is made and developed by Anytime Sign. We regulate the quality and thickness for ultimate opacity in the visible spectrum. In the infrared spectrum Magic Black becomes transparent allowing for the SOLAS3™ to reflect light back to Night Vision equipment, providing crystal-clear friend or foe identification.

1/4" MAGIC BLACK INFRARED SOLAS3™ PRE-CUT 20" STRIP
CLICK HERE FOR PRODUCT INFO
SIZE
1 PIECE
2-4 PIECE
5-9 PIECE
10 OR MORE PIECES
1/4" X 20"
3.00
2.20
1.54
1.32
1/2" MAGIC BLACK INFRARED SOLAS3™ PRE-CUT 20" STRIP
CLICK HERE FOR PRODUCT INFO
SIZE
1 PIECE
2-4 PIECE
5-9 PIECE
10 OR MORE PIECES
1/2" X 20"
3.34
2.57
1.91
1.70
3/4" MAGIC BLACK INFRARED SOLAS3™ PRE-CUT 20" STRIP
CLICK HERE FOR PRODUCT INFO
SIZE
1 PIECE
2-4 PIECE
5-9 PIECE
10 OR MORE PIECES
3/4" X 20"
3.72
2.99
2.33
2.11

UPC#047393694874
1" MAGIC BLACK INFRARED SOLAS3™ PRE-CUT 20" STRIP
CLICK HERE FOR PRODUCT INFO
SIZE
1 PIECE
2-4 PIECE
5-9 PIECE
10 OR MORE PIECES
1" X 20"
4.62
3.98
3.32
3.10
1 1/2" MAGIC BLACK INFRARED SOLAS3™ PRE-CUT 20" STRIP
CLICK HERE FOR PRODUCT INFO

SIZE
1 PIECE
2-4 PIECE
5-9 PIECE
10 OR MORE PIECES
1 1/2" X 20"
6.43
5.97
5.31
5.09

2" MAGIC BLACK INFRARED SOLAS3™ PRE-CUT 20" STRIP
CLICK HERE FOR PRODUCT INFO
SIZE
1 PIECE
2-4 PIECE
5-9 PIECE
10 OR MORE PIECES
2" X 20"
8.24
7.84
7.30
7.08

2 1/2 " MAGIC BLACK INFRARED SOLAS3™ PRE-CUT 20" STRIP
CLICK HERE FOR PRODUCT INFO
SIZE
1 PIECE
2-4 PIECE
5-9 PIECE
10 OR MORE PIECES
2 1/2" X 20"
9.05
8.86
8.21
7.98
VIEW SHOPPING CART

Buy now online or
call during business hours to place an order
Anytime Sign 800-582-1554
| | |
| --- | --- |
| | For CREDIT CARD payments, just click "Don't have a Paypal Account?", when you get to the Paypal Payments portion of checkout and the credit card option will open up. |
Click on the links below if you are looking for regular non-infrared reflective pinstripe.

3M 3200 Reflective Engineer Grade Pinstripe,
RED, BLUE, YELLOW, GREEN , AND WHITE 1", 1/2", 3/4", and 1/4" x 25 ft

3M 680 Black Reflective Pinstripe 1", 1/2", 3/4", and 1/4" x 25 ft

SOLAS PINSTRIPE 1", 1/2", 3/4", AND 1/4" X 12 FT

Other Products CLICK ON BUTTONS FOR INFORMATION