Ozark Studio Arts is a subsidiary of Anytime Sign, Inc.
Call 800-582-1554 or send an EMAIL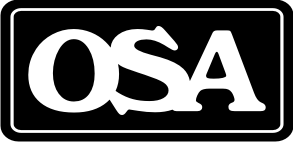 Ozark Studio Arts products are often identified with the OSA mark
Ozark Studio Arts works with Industrial Designers, Interior Decorators, Custom Furniture Manufacturers and Artisan Carpenters
in the tradition of Edward Burne-Jones and William Morris of the Pre-Raphaelite Movement at the end of the nineteenth century. The Pre-Raphaelites REJECTED THE SELF-ABSORBED, "BELLY BUTTON GAZING" OF MODERN ART. Their four principles intended to restore the spiritual and creative integrity that existed in medieval culture before the Enlightenment started the narcissistic modern art movements that question the existence of objective truth and beauty.
1) Express genuine ideas (which may include unveiling truth that already exists, but is not yet discovered).
2) Study nature attentively, so as to know how to express it (nature provides insight of self, not the reversed).
3) Appreciate (more than immitation) what is honest and heartfelt in previous art, to the exclusion of what is conventional, self-parodying and learned by rote (ultimately, imitate nature, not other artists).
4) Most important of all, to produce thoroughly good pictures and statues (which presumes objective truth and objective beauty and the ability to know the difference).
Ozark Studio Arts has the following manufacturing processes in-house:
Serigraph / Screen Printing, all types, all substrates, all inks
Digital printing, including Magic Black infrared ink
Die Cutting
Oven Baking up to 400 degress Farenheit
Laser Etching, Engraving and Cutting
Wood Block printing
Here is a typicalexample of a Wood Block print:
Abrecht Durer Wood Block Print of
Knight And Landsknecht, a 15 1/8" x 11 1/8", 1496.
| | |
| --- | --- |
| THE PRINT | THE BLOCK |
| | |
| The Print was custom made with Parchment Paper, Brayer, Archival Ink and printed in a Wood Block Press similar to the one used by Durer. | |