INFRARED SOLAS
LASER CUT PATCHES

To order please call 800-582-1554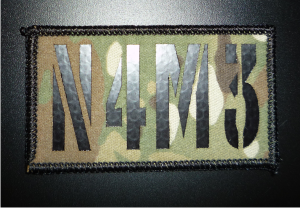 Looking for Non-Fabric infrared SOLAS call, signs click here.
Laser cut fabric on 3M brand IR Magic Black Solas with
traditional military Merrow regulation edgeing.

PATCHES COME WITH HOOK VELCRO BACKING
MAGIC BLACK IR SOLAS or REFLECTIVE SOLAS LETTERS ON LASER CUT FABRIC 3.5"x2"
Your patch or patches can say whatever you like.

Please call to order... 800-582-1554

Covert IR Solas letters, will not reflect in the visible spectrum. Lettering Reflects brightly when viewed with night vision equipment.
Reflective Solas letters, will reflect in the visible spectrum. Lettering reflects brightly when viewed with night vision equipment.

Available in ONLY IN STENCIL TYPESTYLES if you want a block typestyle please see our other style of fabric patches. CLICK HERE
AVAILABLE FABRICS: MULTICAM, AOR1, AOR2, BLACK, AND RANGER GREEN
FREE SHIPPING
First class mail for 1-9 qty and
UPS shipping for 10 or more

HOW TO ORDER CUSTOM CALL SIGN PATCHES
QUANTITY

1-9

10-24
25-49
PRICE
PER PATCH

$18.50

$15.63
$11.69

DISCOUNT PRICE FOR 50 PATCHES IS $9.79 PER PATCH, SHIPPING IS NOT INCLUDED.
PLEASE EMAIL OR CALL TO ORDER.
LARGE ORDERS WILL BE REQUIRED TO APPROVE A SAMPLE BEFORE THE ORDER GOES INTO PRODUCTION


Anytime Sign uses the traditional Merrow edge on removable military badges, patches, and insignias that have Velcro® brand fasteners. The Velcro® brand fastener Emblem Merrow Edge is a regulation emblem edge sewn on Velcro ® brand fastener patches, badges, and insignias. The stitch does not take up any of the hook material on the patch backing, preserving the beauty of the stitch and the functionality of the patch; the result - a high quality product that preserves the detail of the emblem and that won't come off or be delaminated during normal wear.
Other Products CLICK ON BUTTONS FOR INFORMATION