WARNING SIGNS

Use this style when there is a hazardous situation which, if not avoided, could result in death or serious injury. It should not be considered for property damage unless personal injury risk is present.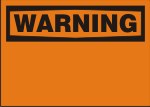 Black on Orange .040" aluminum.
Our screen printed signs are printed using a solvent based ink that is cured at 400 degrees.
The manufacturer says that the black ink will last up to 25 years outdoors.
The ink is scratch and solvent resistant. It will not chalk or fade.
Quantities less than 12 may be made with digital printing or vinyl graphics.
We can print aluminum signs with any wording, including pictograms and logos.
We can put your company name and telephone number on the sign for no extra charge.
Please contact us if you want custom information on your signs.
We will email or fax your custom layout for approval before printing.

QUANTITY PRICING, WHEN YOU PURCHASE MORE THE PRICE PER SIGN GOES DOWN.
| | | | | | | |
| --- | --- | --- | --- | --- | --- | --- |
| SIZE | 1-11 | 12-24 | 25-49 | 50-99 | 100-199 | 200-299 |
| 7" X 5" | 11.89 | 8.24 | 5.12 | 3.68 | 2.96 | 2.60 |
| 10" X 7" | 13.22 | 10.04 | 6.91 | 5.47 | 4.76 | 4.40 |
| 12" X 10" | 13.88 | 10.93 | 7.80 | 6.37 | 5.65 | 5.29 |
| 14" X 10" | 15.21 | 12.72 | 9.60 | 8.16 | 7.44 | 7.08 |
| 20" X 14" | 20.53 | 16.27 | 13.19 | 11.75 | 11.03 | 10.70 |
| | |
| --- | --- |
| For CREDIT CARD payments, just click "Don't have a Paypal Account?", when you get to the Paypal Payments portion of check out and the credit card option will open up. | |
To purchase signs:

Type desired quantity next to the size of sign you want and click ADD TO CART.



VIEW SHOPPING CART

SHIPPING VIA UPS
| | | |
| --- | --- | --- |
| | | |
| | | |
| | | |
| | | |
| | | |
| | | |
| | | |
| | | |
| | | |
| | | |
| | | |
| | | |
Other Products CLICK ON BUTTONS FOR INFORMATION